Fabulouss Plus SIze Prom
NOTE: NUMEROUS DRESSES NOT LISTED ONLINE AS QUICK DELIVERY CAN SHIP WITHIN 1 WEEK. CALL FOR DATE 401.480.8187 FABULOUSS plus size prom dresses use more beading, flamboyant prints and fun, flirty styles so that from the moment you first try on a Fabulouss dress you will begin to feel more confident and beautiful. Incorporating some of the hottest styles of the runway and red carpet, these plus size prom dresses are complete in color and detail. But like all prom dresses, it's up to you to be knowledgeable of the important aspect color plays in your plus size prom gown selection. Be sure to chose a dress that works with your skin tone and hair color to make your inner elegance shine.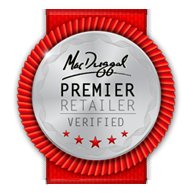 Infusion is an authorized Premier Retailer for Mac Duggal.